IT is crucial for a company's operations and the ability to gain insights. Learn about OT Security Best Practices and how Cisco Cyber Vision can provide an overview of OT devices in operation and monitor the traffic between them (finance, sales, logistics, and all other key parameters; or rather, almost all). Because OT (Operational Technology) often operates in its own and equally critical space.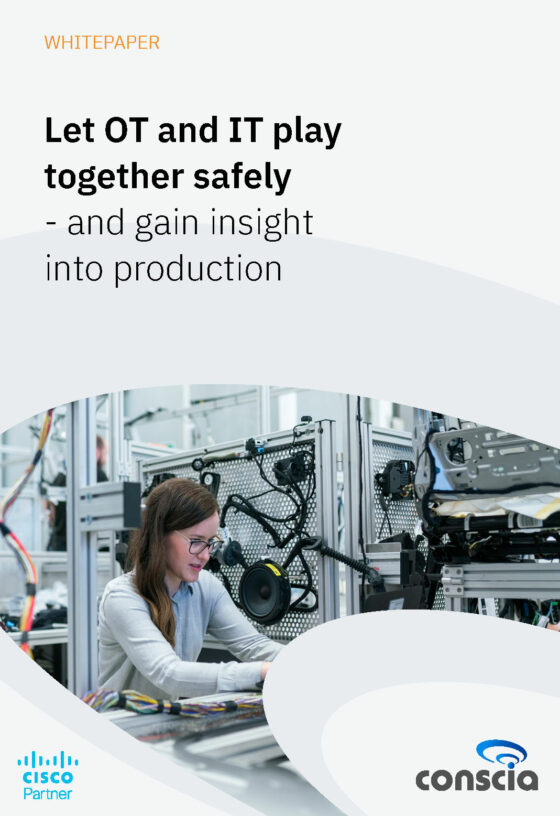 Bridging the IT-OT Gap for Enhanced Operational Efficiency
While IT focuses on tasks such as collecting, storing, and processing data, OT handles production equipment, energy and raw material supply, room monitoring, security equipment, and more. These systems have an extremely long lifespan, operating with an unwavering focus on stability, predictability, production, and personal safety.
The lack of integration between IT and OT, however, makes it challenging to obtain real-time insights into the production apparatus, optimize processes, or use AI/ML systems to, for example, minimize waste and energy consumption or contribute data to green accounting.
Safeguarding Your OT Infrastructure in an Age of Cyber Threats and OT Security Best Practices
At the same time, a series of technological "silos" have been effectively built, which are difficult to secure against attacks, for instance, due to actors on-site or remotely gaining access to control devices that manage critical or hazardous processes. This is not just a hypothetical risk.
In many companies, you can easily monitor room surveillance by simply copying a QR code freely accessible on a wall in a factory hall.
A bit more insight was needed when Western intelligence agencies sabotaged the PLC devices controlling Iranian uranium enrichment centrifuges; apparently, it was necessary to have an agent insert a USB key with the so-called Stuxnet malware into computers with access to the control units.
But even though the purpose here was to slow down the use of nuclear technology by a hostile power, the same principle can be used to disrupt or sabotage production companies and energy supplies at home.
This and much more advanced technology for cyberattacks on OT is available on the "dark" internet today – even for non-governmental actors – and it can just as easily be used for attacks on Western companies and organizations. This is one of the reasons why the new NIS2 directive as an example, requires the food and energy sectors to secure critical production equipment against cyberattacks. The directive also warns of substantial personal fines for leadership in case of non-compliance. You can read more about the NIS2 directive in this whitepaper.
So, how do you practically gather surveillance of your OT installations and protect them from attacks? How do you effectively integrate OT with IT, enabling you to harness the advantages of automated process optimization and integration with new technologies like predictive maintenance, which have long been the focus of industries such as transportation and wind turbine production?
We will provide answers in our whitepaper Let OT and IT Play Together Safely – and gain insight into production. Please fill out the form below, and we will send the PDF to the email address you provide.
Table of contents in this whitepaper:
Let OT and IT play together safely – and gain insight into production
Acknowledge that the challenge consists of two distinct components
Here's how you can proceed: Establish common goals and a secure integration platform
The prospect of increased security, insights, and stability – as well as accurate green accounting
Gain secure knowledge about the actual conditions on the factory floor
Wide support and a comprehensive overview: An Overview of Cisco Cyber Vision
Get off to a solid start